UPDATE: There will be an after party at BACKSTOP BAR & GRILL from 9PM-2AM - MTV and Rikishi will be there! 1800 Union Ave. Belvidere IL 61008 (815)547-8109

UPDATE: MTV will be at the event filming for their show TRUE LIFE!

Old School Wrestling will make a stop at Belvidere High School with a special fundraising event to support their Athletics programs before making their return to the newly renamed Rockford Aviators Stadium August 17th, 2013! Come out and support BHS...

Scheduled to appear WWE/WWF Superstar Rikishi, Arya Daivari, Rudy Vallay, "The Seven Foot Tall" Minnesota Nightmare, "Strangler" Diego Corleone, Stonewall, Punisher 747, POWW Champion Chris Cairo, Soulbrother, "Diceman" Ronnie Vegas, JPW Cahmpion "Iceman" Tim Norton, "The 500lb." Mississippi Madman, The Masked Stretcher and more!

*If you purchase a Ringside or Front Row ticket you will get to be a part of the Meet & Greet at 5:30PM.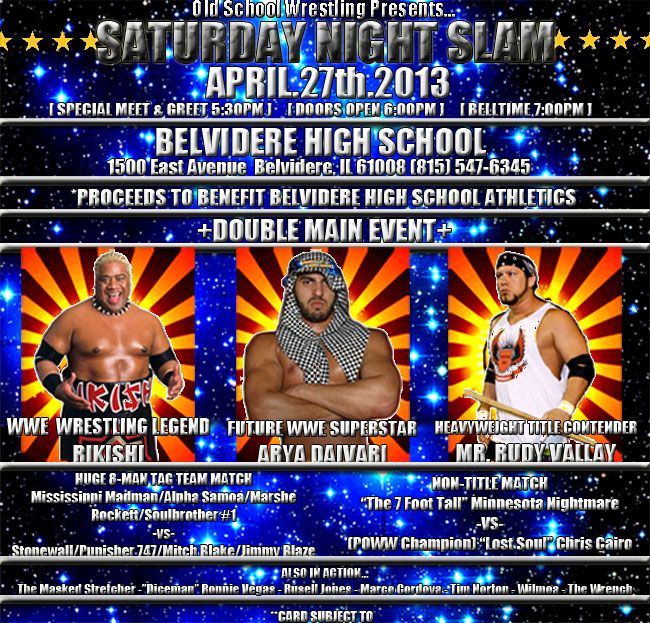 Discussion

Location
Belvidere High School
(View)
1500 East Avenue (815) 547-6345
Belvidere, IL 61008
United States
Categories
Kid Friendly: Yes!
Dog Friendly: No
Non-Smoking: Yes!
Wheelchair Accessible: Yes!
Contact